Hot sale realistic dinosaur electric walking animatronic dinosaurs in the park
Product Introduction
---
Power: 110/220V, AC, 200~800W

Usage: Attraction and promotion (amusement park, theme park, museum, shopping mall, festival site...
Movement: ①Head turns left and right, ②Head turns up and down, ③Open and close mouth, ④Breath(abdomen), ⑤Wag tail, ⑥Blink eyes, ⑦Roar, ⑧Forelimbs grasping, ⑨...(customization)
Accessories: Contol box, speaker, power cable, spare parts, etc...
Start mode: ①Infrared sensing, ②Remote start, ③Voice control, ④Insert coins, ⑤Button
---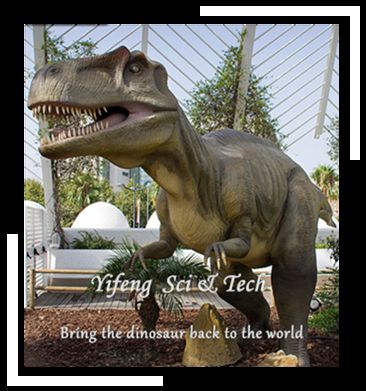 Main Materials
All the materials have been checked by our quality inspector.

Quality Assurance:
Customers who have purchased products in our company are entitled to a two-year free waranty and replacement of electronic components service(except for man-made damage).
steel

reducer

flange

motor

elastic

fiber

density

foam

acrylic

paint

silicone

sealant
---
Production Process

1. Cottect information: Collect the relevant information such us customers' requirement about the product customization and the model the product on the computer.
2. Design drawing: Draw the model and caculate the relevant data. Deliver the drawing to the factory for product production.

3. Steel frame modeling: The workers (steel & motor workers) perform steel frame structure of the model, then input commands to the motor and commissioning.

4. Electrical commissioning: Test the movements and debug the motors of semi-finished model.
5. Foam modeling: Model shaping artisan wrapped foam on the outside of the frame, and then starting shaping.

6. Skin making: The worker applies the elastic fiber to the surface of the shaped model and then Ironing the surface to skin texture.
7. Artwork coloring: Coloring the semi-finished model.

8. Finished product: The finished product is placed naturally to dry.
---
Applications

---
Why Choose Us
1. The waterproof and moisture-proof performance of our controllers are higher than the same industry level.
2. The stability of our controllers is higher than the industry standard.
3. The products have been certified by many institution.
4. Diversified mode of activation for animatronic animals(dinosaur).
5. The products are realistic in appearance, rich in color, and support customization.